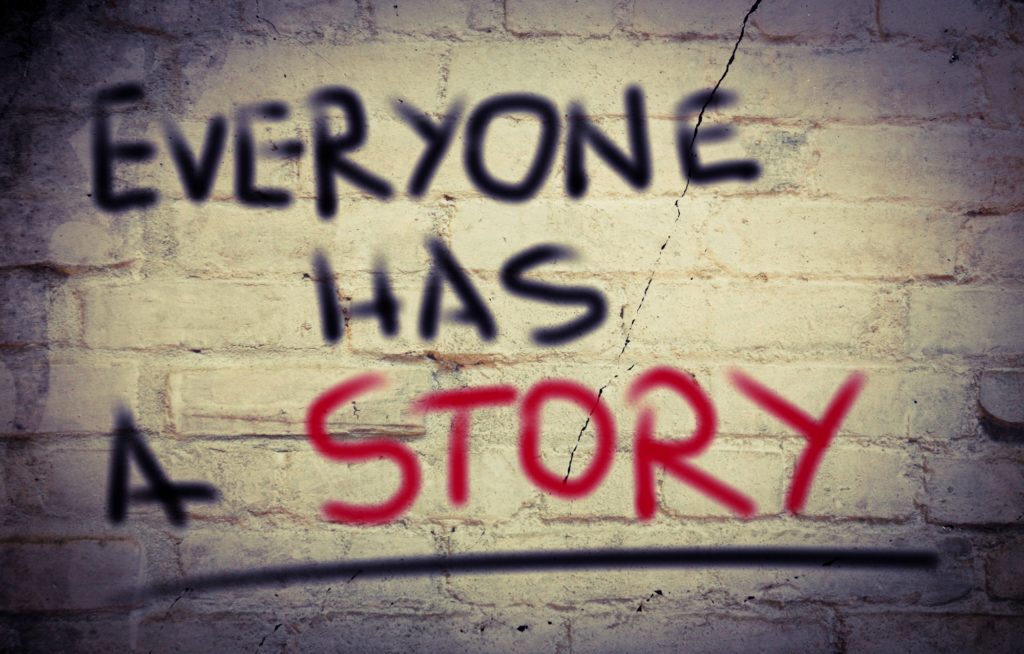 At Gurufi, we stress storytelling as a means of building engaging and powerful personal statements. When I talk to clients about storytelling, the most common response I get is, "but my life isn't very interesting." Experience has taught me that in nearly every case, that person is wrong. In fact, over and over, I work with people who have done really unique things, come from amazing backgrounds, or who have experiences that would absolutely capture the attention of an admissions officer if that story were properly told, but who are convinced that their life is dull, generic, and uninteresting.
The joke I sometimes tell clients is that only sociopaths and Instagram models think they are interesting; mentally healthy people often don't have the kind of runaway ego that allows them to identify and talk about those aspects of their life that are truly exceptional. More often than not, there's an inverse relationship between how interesting people think they are, and how interesting they really are. When I think about how hard it can be for people to identify the stories that make them unique, what immediately pops to mind is the story of "Samir,"[1] a medical applicant I helped get into a top-five medical school in the United States.
Samir was a smart, low-key, and unassuming person who was easy to talk to and even easier to like. The kind of guy you would love to have as a neighbor. He came to us because he was intimidated by the idea of writing an essay extolling his own virtues. As part of our consultation process, Samir filled out a questionnaire, and then we spoke on the telephone for almost an hour, going over every aspect of his life, education, and ambitions. His story was impressive: he had fled civil war in his home country, come to the United States, enrolled in community college to learn English, transferred to a top state school, and earned excellent grades, all while doing some really admirable public health volunteer work in his community.
As our hourlong conversation was wrapping up, we had a really nice outline that highlighted his life, and I felt confident that he would make a compelling candidate. Then, just to cross all the t's and dot all the i's, I asked, "I noticed that after your last year as an undergraduate in your home country, you had a year off before you left for America. Did you do anything interesting or relevant during that time?"
"No, not really. The civil war made things hard."
"What did you do?"
"Well, the government bombed our university, and most of the faculty fled. Then, as the fighting got near, the remaining medical school professors turned the medical school into a clinic to treat wounded soldiers from both sides of the conflict. I stayed there and worked."

"Wait, WHAT!?!?! You have to tell me more about this!"
"Why? It's not very impressive. American doctors wouldn't be impressed by this. We didn't have any fancy equipment or anything. In fact, our professors handled the more complicated cases, and we just did things like remove bullets from limbs or stitch up people hurt by bombs."

"WHAT? Tell me more!"
"It really wasn't very interesting, and it's a little embarrassing. Our clinic was quite shabby. I had only been at medical school for a year, so I didn't know how to do anything. Because our professors were handling more urgent cases, I had to look up diagrams for how to perform procedures from Google or YouTube. I wasn't very good at it at first."
"You did this for a year?!?"
"Yeah, I stayed and did what I could. Sometimes I scrubbed in on more complicated surgeries just to lend a hand. We all did what we could."
For the next five minutes, I spoke to Samir and urged him to use this experience as the central motivating story of his application. It was an amazing story that SHOWED all of the important things that a medical school applicant has to have: compassion, resourcefulness, intelligence, commitment to a bigger purpose, toughness, a willingness to learn.
Samir wasn't being coy or displaying phony humility; he actually thought his life wasn't very interesting, and that his readers would look down on the "shabby" work he did in an understaffed and under-resourced clinic in the middle of a warzone. Because he had lived it, and because he was a humble man who just wanted to do good, the thought never crossed his mind that he had done something truly extraordinary. It took a third party (me) to say, "woah, you understand that what you did was amazing, right? You HAVE to write about this!"
Samir very reluctantly agreed, and in fact the day before he was going to send off his personal statement, he wrote a completely new draft that excluded this story and was just sort of a bland narrative version of his CV. Only one final urgent phone call from me got him to back off of that bad choice, and he ended up submitting the essay that featured his time in the war zone clinic. When he earned admission from all of his top-choice medical schools, he understood that he'd made the right choice… though he remains humble about the remarkable year he spent at the clinic!
You may be thinking, "sure, Samir made the right choice, but I've never done anything THAT extraordinary!" Fair enough, but what I can tell you from doing consultations with clients for over a decade is that in nearly every case, people either exclude their most compelling stories or tell them in a manner that undermines their power. If Samir can have a blind spot to the amazing things about him, what are you missing about yourself? My bet is that there's something big.
As we progress through these blog posts in the coming months, I'm going to offer you some tips, tricks, and processes for identifying compelling parts of your own life to write about. For many people this is a skill that can be learned and a process that they can navigate on their own with just the written guidance we provide. For those folks, stay tuned here for insights on how to tell your best story.
For folks who don't feel like they can do this without some professional guidance and consultation, contact us at service@gurufi.com, and we'll help walk you through the process of writing a powerful and winning personal statement.
[1] Every story is true and told with the permission of the person involved. Nonetheless, I change the names and remove identifying information to protect their identity.
Brian Fobi is the CEO of Gurufi / FourthWrite, an admissions consultancy. You can contact directly at fobi@fourthwrite.com