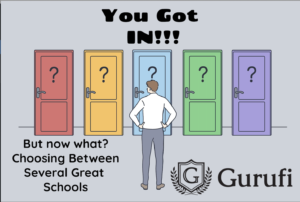 When I checked my email this morning, I remembered why this is my favorite time of year! Two of my favorite clients got into their dream schools, and my back-and-forth emails with a client who just found out that he got into Stanford brought a warm feeling to my heart that just about melted the huge pile of snow outside my house!
During the late fall and early winter, we're incredibly busy at Gurufi, helping clients get into their dream schools. But now, our clients are starting to hear back from graduate and medical programs, and the good news we get is fantastic and justifies all the late nights working with them to perfect their personal statements and CVs. But now, many of our clients face a happy dilemma: how do you choose between two good schools?
Though technically speaking picking from among schools isn't part of my job, I often give clients some advice about this question based on years of experience. Here are ten thoughts on how to pick between schools after you've been offered admission!
Ask yourself: do I want to live there? One of the biggest mistakes that I've seen people make is to view their graduate school experience as something that they should just endure or merely Not your preferred location? Well… it's only a few years! That is the wrong approach. If you're happy, you're more likely to thrive, make connections, and get the most out of the experience. So, take the school's location and size into account. Think about whether you want to attend a large or small school and if you want to live in a major city or a small town. Ask yourself, "is this somewhere I could live?" Don't be afraid to try something new, but listen to what your gut says and ask yourself "could I thrivehere?"
Once again, look into the academics and how well they align with your goals. Especially if you're trying to decide between comparable programs, take the time to do another "final check," perhaps even more in-depth than when choosing whether to apply. Check out the instructors and available programs. Check the curriculum to see if it fits your professional objectives, and look into the professors to see if they have any relevant experience or publications. Contact current students and ask them what they love and what they wish they could change. Write down what you think your two years of coursework, training, resources, and extracurriculars would look like.
Okay, fine… take into account the school's reputation and ranking. I am a HUGE believer in the idea that fit matters more than ranking, but ranking and reputation do matter. Rankings should not be the primary consideration, but they can help you determine the standing of the institution and the caliber of its curriculum.
Think about the alumni and current students you've met. By this point, you've likely talked to lots of current students and alumni. Once you've been admitted, use LinkedIn and other resources that the school provides to have more conversations about the school and its strengths. You'll likely find that students are even more frank with students who've been admitted. Similarly, find out about how active alumni are and the kinds of things that they're up to. After graduation, a robust alumni network may offer useful contacts and assistance.
Price compare. Usually, schools provide financial aid and cost information a few weeks after admission. Sometimes longer. As soon as you have this information, it's time to get down to brass tacks. How much are you willing to spend? Importantly, you can also use this period to bargain. Contact the Admissions and Financial Aid offices if you've gotten a more generous package from another school, and ask them to close the gap. They won't always be able to do so, but they often can, and it never hurts to ask! At any rate, once you have some solid numbers, a basic ROI assessment that includes everything from long-term trajectory to immediate salary bumps can help you figure out your next move.
Don't forget to do a deep dive into local expenses! If you're comparing, for instance, NYU and Ross, remember to account for the fact that Manhattan is a lot pricier than Ann Arbor.
Listen to your gut… but you don't have to obey it! Churchill said that "intuition is reason in a hurry." There's real truth to this. In 99% of cases, people have a gut-level preference for one school. Begin by acknowledging what this is, and then ask why. Are you a little too enamored with rankings? Did the campus dazzle you? Whatever the reason, ask yourself a follow-up question: is the basis of my gut's decision rational and good? If not, then be willing to deny your intuition and take a more thoughtful approach. If so, then you know what to do!
Consider the culture and ideals of the school. To learn more about the school's culture and beliefs and determine whether they coincide with your own, visit the school's website and go to informational sessions. If this hasn't been made clear to you, ask somebody. Attending a school where your values align with theirs is vital, so don't overlook it.
Dig into the data. Now is the time to get even fussier about all of the relevant data that schools keep. What's their 1-year and 5-year employment data look like? Average salary? Long-term satisfaction rate (or its proxy: alumni giving percentage)? You probably looked at this information during the application process, but now is the time to do it again!
Take into account the school's inclusion and diversity. A varied and inclusive school may offer a richer educational experience and can also be a positive reflection of the ideals of the institution. And if that touchy-feely stuff doesn't move you, remember that you're hoping to thrive within an increasingly global and diverse world, so be sure that you have the background and comfort level to do this!
I hope that you have the happy conundrum of trying to choose between great options! If you'd like to have this problem, then be sure to check us out Gurufi.com!  For seventeen years, we've helped thousands of clients craft powerful personal statements and attractive CVs. Check us out at Gurufi.com. Our personal statement editors and consultants have decades of experience helping clients get into top medical, law, and graduate programs. We pride ourselves in guaranteeing the satisfaction of every client. Our specialty is helping you craft compelling personal statements that move the needle in your admissions process! For questions, shoot us an email at service@gurufi.com. Check us out on Facebook, Twitter, and LinkedIn.