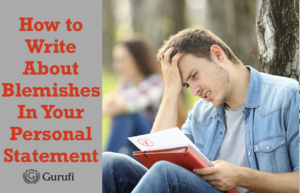 At Gurufi, we help applicants of all backgrounds write powerful and compelling personal statements, but if I had to pick our specialty, it would be helping people with blemishes on their record. Maybe you had a bad first year in college; maybe you got arrested when you were 19; maybe you founded a company right out of college that went bankrupt and lost your investors a ton of money. We've seen it all. In nearly every case, we're dealing with people who stumbled, got up, and rebuilt their lives informed -and even powered by- the lessons they learned from their mistakes.
@gurufi_admissions

Don't let academic or professional setbacks derail your MBA application! Here'w how to address these concerns in your personal statement. #MBA
As you look to build your personal statement or write about a blemish in your past, here are five tips to follow:
Be sincere: When discussing flaws in your history in your personal statement, it's crucial to be sincere and upfront. Don't speak in vague terms or euphemisms. Being direct, clear, and frank can demonstrate maturity and self-awareness and assist you in giving the reader a more accurate and genuine picture of who you are.
Consider the lessons you've learned: When writing about previous transgressions, take into account the lessons you've learned and how they've helped you become a better person. This might show that you're able to grow from your mistakes and make progress. A good rule of thumb is that you should look for a 2:1 ratio (lesson learn to describing the mistake) when talking about missteps.
Don't concentrate on the bad: While it's vital to acknowledge and talk about previous mistakes, you should try to avoid focusing on the bad parts of the event. Instead, concentrate on the advantages of your development and progress. Make it clear how / why you're a better person. If you can, provide an example of an instance where you faced a similar challenge and crushed it.
Give particular instances: Give specific examples to support your views and to assist explain the lessons you've learnt from prior mistakes. This can enhance your writing's vividness and interest, as well as assist the reader remember your personal statement longer.
Keep it short: It's always a good idea to eliminate unnecessary text, but it's 10x important to keep this section lean and direct. Be succinct and to the point while writing about flaws in your history. Stay away from delving into too much detail or focusing on the unpleasant parts of the encounter. Instead, concentrate on your main points and leave it at that.
For more help with your personal statement, check us out at Gurufi.com. Our personal statement editors and consultants have decades of experience helping clients get into top Masters and Ph.D. programs in STEM, humanities, fine arts, and social sciences. Our specialty is helping you craft compelling personal statements that move the needle in your admissions process! For questions, shoot us an email at service@gurufi.com. Check us out on Facebook, Twitter, and LinkedIn.