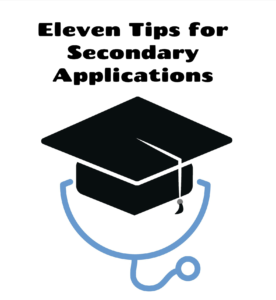 With your MCAT, personal statement, Work & Activities, and letters of recommendation all lined up, it's time to start on your secondary application essays. Here are eleven tips for getting the most from your secondary essays.
Get a head start. Your calendar is going to get pretty crowded, so begin as early as you can. Fortunately, most schools use the same essay from year to year, so even if you've not yet received the prompts, you can at least begin some light brainstorming, outlining, and rough-draft writing for the secondary essays you anticipate getting.
View your secondaries as complementary. Think of your application holistically. Your personal statement provides your core theme and depth on a few moments and accomplishments. Your Work & Activities provide breadth and some additional depth on a few "most significant" items. Then, your secondaries fill out the application while emphasizing how your strengths, interests, and background align with what the school offers and values. As such, don't use these secondaries to repeat information at length that you've already covered well elsewhere.
Carefully follow the directions. Be careful to follow the medical school's word restrictions, formatting specifications, and any other instructions.
Create unique essays for every school. I know, you're going to writing A TON of essays. And, you can repurpose some text where it makes sense. But, don't shoehorn text into an essay that doesn't quite fit just because you want to avoid some work. The main idea behind a secondary essay is to focus on aligning your strengths as an applicant with the school's culture and values. This requires customization. Find out the aims and values of the medical schools to which you are applying, and then use your essays to show how you share those ideals.
Provide concrete instances to support your arguments. Use particular stories and examples to explain your experiences and accomplishments rather than making generalizations. Your essay will become more interesting and memorable as a result.
Steer clear of clichés and overused words. Avoid using overused words and clichés in your writings since they may make them look generic. Your essays should be distinctive and genuine.
Carefully proofread and edit. To guarantee that your writings are devoid of typos, grammatical errors, and other faults, be sure you proofread and edit them thoroughly. You should be just as fussy and meticulous about your secondary essays as you were about your primary AMCAS essay.
Show, don't tell. To demonstrate your experiences and accomplishments rather than merely recounting them, use vivid language and specific facts. This can make your writing more compelling and interesting.
Be true to yourself. Write about subjects that are personal and significant to you since medical schools are seeking applicants who are real and authentic.
Write with clarity and conciseness. Be as plain and succinct as you can in your writing, and avoid using jargon or too complicated terminology. And be sure to end your essay by returning to your introduction.
Request input from others. Think about inviting dependable mentors, family members, or friends to read and comment on your essays. This might assist you in identifying areas for development and ensuring the strongest possible essays. BUT, make sure that you are thoughtful and assertive in weighing every piece of advice.
For more help with your personal statement, check us out at Gurufi.com. Our personal statement editors and consultants have decades of experience helping clients get into top medical schools. Our specialty is helping you craft compelling personal statements that move the needle in your admissions process! For questions, shoot us an email at service@gurufi.com. Check us out on Facebook, Twitter, and LinkedIn.
References:
Association of American Medical Colleges (AAMC). "Writing Your AMCAS Personal Comments Essay." https://students-residents.aamc.org/applying-medical-school/article/writing-your-amcas-personal-comments-essay/
#MCAT #medicalschool #medschool #amcas #amcaspersonalstatement #medstudent #medschoolife #premed #premedical #medschoolproblems #premedproblems #studentdoctor #whitecoat #residency #gettingintomedschool #medicalresearch #workandactivities #workandactivities