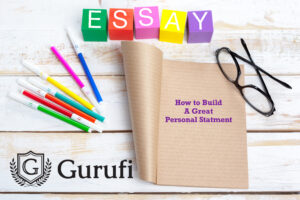 In our last video, we talked about how to brainstorm and generate content for your personal statement.
This video builds on that exercise, so make sure that you check that out before watching this video! The personal statement is one of the most important -and stressful- parts of a graduate school application! You have limited space to state your case for admission, give a sense of your perspective and values, indicate how you're prepared for this immense challenge, and describe why you'd fit into the culture and intellectual mission of the program. Though it's certainly different than other kinds of essays, your personal statement ought to be well-structured, convincing, and logical.
Here are some pointers to help you arrange your personal statement for your doctoral application:
(1) Begin with a compelling introduction… but avoid gimmicks over too much emotionality. The best way to do this is by using storytelling. Once you establish how and why studying this subject in depth is important to you, it's easier to provide a clear indication of the aim of your personal statement as well as your goals for the Ph.D. program.
(2) Remember that grad school admissions essays are fundamentally different than undergraduate admissions essays! The purpose isn't to show that you're zany, quirky, or have lots of personality, it's to show that you're ready, mature, and prepared to study this particular subject at a high level. As such, emphasize your research background and / or your familiarity with the field. : Your experience and knowledge in research should be highlighted in your personal statement. Describe how your research efforts, publications, or presentations have prepared you for a Ph.D. program using concrete examples. Be careful to include any research interests or areas of concentration you may have.
(3) Similarly, your essay needs to have a laser-focus on your preparation within the particular field. As such, emphasize your academic successes, such as honors and awards, and describe how these successes show that you have what it takes to be successful in a graduate program. Moreover, make sure to list any pertinent courses you have completed and discuss how they helped you prepare for graduate studies.
(4) Lastly, your personal statement should outline your professional objectives, including why you want to enroll in the program and what you aim to accomplish with your research. Talk about your long-term professional objectives and how a Ph.D. program can help you reach them. #gradschool #gradschoolapplications
For more help with your personal statement, check us out at Gurufi.com. Our personal statement editors and consultants have decades of experience helping clients get into top Masters and Ph.D. programs in STEM, humanities, fine arts, and social sciences. Our specialty is helping you craft compelling personal statements that move the needle in your admissions process! For questions, shoot us an email at service@gurufi.com. Check us out on Facebook, Twitter, and LinkedIn.
#phdprogram #phdapplication #personalstatement #researchexperience #academicachievements #careergoals #admissions #applicationprocess #statementofpurpose #sop #graduateprograms #highereducation #researchinterests #writingtips #gradadmissions #admissionsessay #applicationessay #success