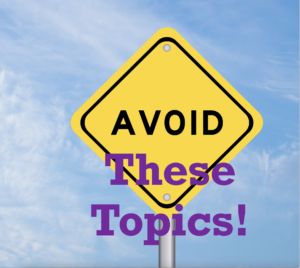 In a recent post, I talked about the worst topic to use as your medical school personal statement introduction. Though I think that some topics are more complicated and fraught than others, I don't usually give clients hard "no-go" topics. Rather, it's about thinking about framing, context, and delivery. Another way to think about it is that these aren't "banned" topics, per se; they're just topics that have higher degrees of difficulty. Here are some topics to think twice about as you approach your personal statement.
Religion and politics. Don't ever proselytize or make assumptions about what the reader's politics are. Faith can be a vital part of many applicants' lives, but to the extent that you bring it up, do it in a way that isn't gratuitous, and make sure that you embrace a spirit of inclusivity. Similarly, it's becoming increasingly common for people with backgrounds in politics, policy, or advocacy to transition into medical careers. As you talk about your political engagements, focus on what you hope to accomplish and avoid denigrating other political positions.
Personal tragedy. Again, this is a topic that can be an important and effective part of a personal statement, if done properly. If done poorly, it can weigh the essay down in negativity. As a general rule, I urge clients to eventually bring their stories around to a forward-looking and optimistic vision. Tragedies either inspire you to become better, urged you to fight for a solution, or somehow teach you vital insights that will make you a better doctor. What you do NOT want is to include a sad story because you're seeking emotionality for its own sake. Remember your purpose: to convince the reader that you're a prepared, interesting, qualified, and mature candidate. Overcoming hardship can show that; a sad-sack story about life grinding you down that doesn't end on an optimistic note will not.
Your personal setbacks. Everybody makes mistakes, and if the AdCom will know about your setback, you HAVE to talk about it. I've made several videos about how to do this. Heck, I even did a full-length detailed course for MBA applicants on how to do this (the same basic rules apply). So what are the basic rules?
 Be clear about what your setback was. Don't be vague or use euphemism.
 Own it. Accept responsibility and state directly that you fell short of your standards.
 Explain what you learned AND how you've improved since.
 If you can point to subsequent examples of success, do so.
 Move on. Take an optimistic tone about the future and embrace the fact that you've learned and grown since.
Talking about your use of drugs or alcohol in a personal statement for medical school is typically not a smart idea. Discussions about past substance misuse may not be consistent with the admissions committee's expectation of candidates who are responsible and dedicated to upholding a professional image.
In general, it's not a good idea to mention that you want to become a doctor only for the money or the status. Admissions committees are searching for applicants that are passionate about medicine and truly want to assist others.
For more help with your personal statement, check us out at Gurufi.com. Our personal statement editors and consultants have decades of experience helping clients get into top medical schools. Our specialty is helping you craft compelling personal statements that move the needle in your admissions process! For questions, shoot us an email at service@gurufi.com. Check us out on Facebook, Twitter, and LinkedIn.
Here are some additional resources for this topic:
#MCAT #medicalschool #medschool #amcas #amcaspersonalstatement #medstudent #medschoolife #premed #premedical #medschoolproblems #premedproblems #studentdoctor #whitecoat #residency #gettingintomedschool #medicalresearch #workandactivities #workandactivities