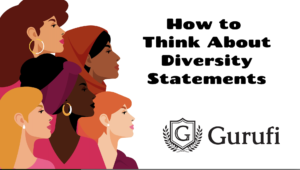 Next week, I'll be releasing two longer videos with some strategies, tips, and insights on how to write effective diversity statements. For many applicants -especially those from outside the United States- this is the most confusing and opaque part of the application process. How Americans think about diversity, what they're looking for, and how this reality impacts people of varied backgrounds is a fraught, complicated, and high-stakes question.
Hopefully, our presentation takes some of the mystery out of the process and helps people from all groups (under-represented minorities, non-minority, and "over-represented minorities) understand how to approach this question. So stay tuned for that! In the meantime, I've gathered together links some links from the best public universities in America (and Notre Dame) whose statements on writing diversity statements provide genuine insight and helped to supplement my professional and personal experiences with these issues.
In addition, if you need more help with your diversity statement, personal statement, or any other admissions writing, check us out at Gurufi.com. Our personal statement editors and consultants have decades of experience helping clients get into top programs. Our specialty is helping you craft compelling personal statements that move the needle in your admissions process! For questions, shoot us an email at service@gurufi.com. Check us out on Facebook, Twitter, and LinkedIn.