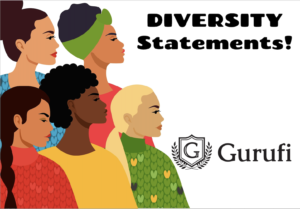 I want to spend a few posts talking about Diversity Statements. Most schools require some version of this, and for many applicants it can be quite confusing in terms of what the prompt is asking for or what you should write in response. I'm going to break this up into three parts: (1) Today, we're going to talk about the basics of how you should approach it, and then (2) tomorrow I'm going to go into some extra depth about how to approach it if you're an underrepresented minority, and (3) on Friday I'll go over my thoughts on what can be the most complicated question: how do you respond to a diversity statement if you're not a part of a group that's underrepresented in business school?
So, first the basics. Diversity Statements grew out of a desire to change the ethnic, national, cultural, religious, and gender makeups of their classes. Some of this was a response to legal rulings that limited schools' capacities to explicitly use race or ethnicity in individual admissions, but that did allow schools to use diversity as a factor in admissions out of the belief that more diverse classes improved the dynamism, breadth, and learning experience of educational cohorts.
Sometimes these essays are optional, with the (often false) assumption that only members of underrepresented minority groups would respond to them. (more on this on Friday!) Sometimes, though, they are a mandatory part of an application. If you write a diversity statement -either because it's required or you elect to- here are some things to keep in mind:
To begin, think about your distinct experiences and how they have shaped your viewpoint. Consider any difficulties or obstacles you have encountered because of your identity, as well as how these encounters have affected your outlook on the world and your method of problem-solving.
Pay attention to your accomplishments and strengths. Be sure to address any difficulties you have encountered as well as your triumphs and qualities. Academic success, leadership positions, and other experiences that show you have what it takes to thrive in business school can be included in this.
Give concrete instances to support your arguments. Use particular instances to support your claims rather than generalizing from your experiences. This will help the reader better comprehend your point of view and make your essay more interesting and personal.
Be true to yourself. Diversity essays, even more than personal statements, suffer from writers who seek to tell the AdCom what they want to hear. Be yourself in your essay since admissions committees are seeking for applicants who are real and authentic. Do not attempt to conform or display oneself in an untrue manner.
Carefully proofread your essay. If it's going into your application, take it seriously. Give it the same level of fussiness and care that you used for your personal statement! Make sure to properly reread and modify your essay before submitting it to make sure it is well-written and error-free. Strong diversity statements ought to be well-written, unambiguous, and short.
If you're looking for additional insights on Diversity Statements, I like these three breakdowns published by Cal, Michigan, and Wisconsin:
For more help with your personal statement, check us out at Gurufi.com. Our personal statement editors and consultants have decades of experience helping clients get into top MBA programs. Our specialty is helping you craft compelling personal statements that move the needle in your admissions process! For questions, shoot us an email at service@gurufi.com. Check us out on Facebook, Twitter, and LinkedIn.