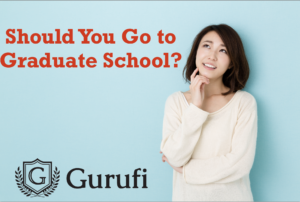 Graduate school can be deeply fulfilling, put you on a path to a career you love, and allow you to study things that you're passionate about under the mentorship of people who are genuine experts. But it's also an intense all-encompassing experience and can be time-consuming, expensive, and professionally and personally disruptive. Far too many people don't take into account that, in graduate school, your entire life becomes about the thing you're studying, the university where you live, and the ideas you're to understand and solve. This shouldn't be done as a way to delay or avoid making hard choices about your future and you should certainly think about all aspects of the program, experience, mentorship, and professional prospects you'll face afterward. Here are ten things to think about as your decide whether graduate school is for you.
Your academic and career goals: Think about what you want to accomplish via graduate school and how a graduate degree will help you get there. If you don't have a clear plan for how graduate school gets you from A to B in your career, then don't take the plunge.
The program's reputation: Research the reputation of the graduate schools you're interested in, including their professors, research opportunities, and job placement rates. This isn't just about vanity or brand obsession. If you're thinking about becoming an academic, the reputation of your program matters A TON. Similarly, many non-academic employers strongly prefer graduates of top-tier programs, and if that's the case, getting a graduate degree from a lesser program may not get you the opportunities and R.O.I. you're looking for.
Financial considerations: Consider the cost of tuition and other fees, as well as how you intend to finance your graduate studies. I personally don't think that you should ever pursue a PhD without full funding, but others feel differently. For Masters programs, think about whether the bump in your expected future earnings justifies what can be an immensely expensive undertaking.
Location: Don't EVER view graduate school as just something that you'll endure. If you find yourself saying "I could tolerate being in City X for a few years…" then STOP! As a former PhD student and professor, I have seen many smart, driven, and ambitious people leave their programs because of lifestyle considerations. If you don't think that you would THRIVE in a city and he happy there, don't apply. Think over the school's location and whether it fits your lifestyle and personal preferences. Your chances of completing the program, doing well, and continuing to feel excited about your program are all connected to whether you are happy within your city.
Program structure and duration: Learn about the program structure and length, as well as if it offers full-time or part-time choices.
Coursework and research possibilities: Think about the sorts of courses and research opportunities available in the programs you're interested in, and how they match your interests and aspirations.
Professors and mentorship: Research the faculty in the programs you're interested in, and evaluate if you'll have access to mentors and advisers who can help you advance academically and professionally. This relationship between you and your mentor will ultimately define your level of graduate school success. An engaged, demanding, helpful, and caring mentor can put you on a path to success; a distant, demeaning, uninterested, or unsuccessful mentor who doesn't believe in your ideas or potential will make graduate school nearly impossible to excel within.
Admission criteria: Learn about the admission requirements for the programs you're interested in, such as transcripts, test scores, letters of recommendation, and any other application materials.
Time commitment: Consider the time commitment necessary for graduate school, which includes courses, research, and any other responsibilities.
Career prospects: Think about the professional possibilities for graduates of the schools you're interested in and whether they correspond with your career ambitions. Overall, before going to graduate school, it is critical to conduct extensive study and carefully analyze all of these variables.
For more help with your personal statement, check us out at Gurufi.com. Our personal statement editors and consultants have decades of experience helping clients get into top Masters and Ph.D. programs in STEM, humanities, fine arts, and social sciences. Our specialty is helping you craft compelling personal statements that move the needle in your admissions process! For questions, shoot us an email at service@gurufi.com. Check us out on Facebook, Twitter, and LinkedIn.