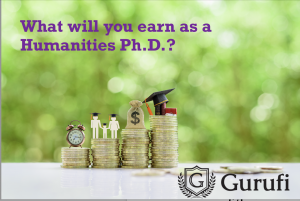 At Gurufi, we have nearly two decades of experience in helping people earn admission into competitive graduate programs. As a result, we understand just what a complicated and fraught decision it is to pursue doctoral studies. When people are considering whether to pursue a Ph.D., one of their main concerns is whether, at the end of their long training, there's going to be an academic job for them. Relatedly, if they don't get an academic job, will they be able to find gainful employment of any kind? Well, the answer to these questions is sort of a good-news / bad-news situation. First, the bad news. As we've covered before, people often overestimate their post-graduate school prospects in academia. The long-story-short is that it's pretty dire for humanities PhDs. Only half to 60% of Ph.D. students seeking a tenure-track job will get one.
The good news, though, is that even if you cannot secure a tenure-track position, there are options available. The assumption is that these fallback options often make than people in other professions, but is this truly the case? Here, we will examine the lifetime incomes of PhDs in the humanities, both in academic and non-academic work tracks.       First, let's define what a doctorate in the humanities is. The wide category of humanities includes disciplines like literature, philosophy, history, languages, and cultural studies. Years of education, research, and writing are frequently required to earn a doctorate in these subjects, and the process culminates in a dissertation that adds something new to the field. In short, becoming a Ph.D. requires that you demonstrate intellect, focus, hard work, and creativity. Thus, it's not a surprise that you'll end up possessing skills that make you attractive on the job market.
Academic Career Path
A tenure-track post in a college or university is a typical career route for humanities doctorate holders. The American Association of University Professors estimates that a full-time faculty member made an average income of $94,837 in 2021–2022. Yet, this figure might differ significantly based on the institution, the field, and the region. For instance, research university professors often make more money than their counterparts at liberal arts institutions. In addition, as compared to STEM fields, humanities fields often have lower average incomes.
The job market for tenure-track posts is an additional issue to take into account. Not every PhD graduate will be successful in landing a tenure-track post since the academic employment market can be quite competitive. In reality, just around 25% of PhDs in the humanities land tenure-track jobs, according to a Chronicle of Higher Education survey. The route to tenure may be long and uncertain for those who do land a tenure-track job, with many elements that are beyond their control.
Non-Academic Career Path
While obtaining a tenure-track post is frequently the objective of humanities PhD candidates, this is not the only possible career option. A rising number of people now understand that PhDs in the humanities have significant abilities that may be used in a variety of occupations outside of academia. Among these professions are:
Nonprofit industry: Numerous non-profit organizations need someone with good research, writing, and communication abilities, including museums, cultural institutions, and advocacy groups. These roles, which sometimes entail conducting research, writing grants, and creating instructional programs, might be ideal for those with PhDs in the humanities.
Publishing: Humanities PhDs have extensive writing and editing experience, which is helpful in the publishing sector. Editorial jobs, marketing, and sales positions are all possible careers in publishing.
Government: People with a variety of talents, such as research and writing, are employed by the government. PhDs in the humanities can work in fields including public policy, international relations, and the preservation of cultural heritage.
Education: Although many humanities PhD candidates want to land tenure-track positions as professors, there are additional chances to teach outside of academic institutions. For instance, those with a Doctorate in English could find employment as English teachers in high schools or as instructors in community colleges.
Consulting: Companies that provide consulting services frequently seek out candidates with great research and analytical abilities. These professions, which might entail performing market research, evaluating data, and designing strategies for customers, may be a good fit for humanities PhDs.
The Georgetown University Center for Education and the Workforce reports that the typical annual pay for humanities PhDs employed in management, business, and finance is $121,000. The typical annual compensation for those working in the media and communications is $96,000, while the median annual salary for those working in education and training is $81,000.
It is vital to remember that, despite the fact that non-academic career paths might be profitable for humanities PhD holders, they frequently call for extra education and experience beyond the degree. For instance, people who work in publishing might need to develop their writing or editing skills, while those who run charitable organizations would need to develop their grant-writing or fundraising skills.
| | | |
| --- | --- | --- |
| Job Type | Average Salary | Estimated Lifetime Earnings |
| College Professor | $78,464 | $1.5 million |
| Non-Tenure-Track | $52,500 | $1.0 million |
| Adjunct Professor | $2,700/course | $810,000 |
| Publisher | $68,000 | $1.8 million |
| Journalist | $50,000 | $1.5 million |
| Public Relations | $60,000 | $1.8 million |
| Nonprofit Management | $70,000 | $2.1 million |
| Education and Training | $81,000 | $2.4 million |
| Media and Communications | $96,000 | $2.9 million |
| Management, Business, and Finance | $121,000 | $3.6 million |
Lifetime Income
It is crucial to take both academic and non-academic career paths into account when estimating the lifetime earnings of PhDs in the humanities. The biggest income potential may be found in tenure-track posts at research universities, but many humanities PhDs may need to look into other professional options in order to make ends meet.
The Georgetown University Center for Education and the Workforce found that humanities Doctorate holders who work in education and training make an average lifetime income of $1.5 million. Median lifetime earnings for people in the management, business, and financial sectors are $3.3 million, while those in the media and communications sector may anticipate earning a typical lifetime income of $2.2 million.
Earning a Ph.D. can be one of the most meaningful -and even fun!- processes of your life. And, doing so with the knowledge that you have career options on the other side can be genuinely comforting!
For more help with your personal statement, check us out at Gurufi.com. Our personal statement editors and consultants have decades of experience helping clients get into top Masters and Ph.D. programs in STEM, humanities, fine arts, and social sciences. Our specialty is helping you craft compelling personal statements that move the needle in your admissions process! For questions, shoot us an email at service@gurufi.com. Check us out on Facebook, Twitter, and LinkedIn.
Sources:
American Association of University Professors. (2020). Annual report on the economic status of the profession, 2019-20. Retrieved from https://www.aaup.org/sites/default/files/2019-20%20Economic%20Status%20Report.pdf
Georgetown University Center on Education and the Workforce. (2018). The economic value of college majors. Retrieved from https://cew.georgetown.edu/wp-content/uploads/Economic-Value-of-College-Majors-Full-Report-web-FINAL.pdf
Inside Higher Ed. (2021). Adjunct faculty pay remains low. Retrieved from https://www.insidehighered.com/news/2021/01/22/adjunct-faculty-pay-remains-low
National Humanities Alliance. (2020). Non-academic careers for humanities PhDs: A guide to professional development in the humanities. Retrieved from https://www.nhalliance.org/non_academic_careers_for_humanities_phds
PayScale. (2023). Average salaries for popular jobs for humanities PhD holders. Retrieved from https://www.payscale.com/research/US/Degree=Doctor_of_Philosophy_(PhD)%2C_Humanities/Salary
For additional information, check out these links: