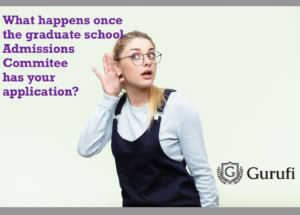 Today we're talking about how graduate school admissions committees assess applications. I'm Brian from Gurufi. In my 17 years in this field, I've helped thousands of applicants earn admission into their dream schools, so I have a thorough grasp of how this process works. We'll look at the main criteria used to evaluate graduate applications in this post, as well as how they differ from undergraduate admissions criteria.
First and foremost, it's critical to realize that graduate school admissions committees want applicants who can show they have what it takes to excel in their programs and advance their fields. As such, graduate admissions committees take a more comprehensive and holistic approach than those for undergraduate applications, where grades and test scores are frequently the main focus. Graduate school admissions committees take into account a variety of elements to determine a candidate's potential, including their academic performance, test results, recommendations, personal statements, and "show me" materials. Most importantly, they care in a hyper-specific way about whether you will excel in this field you're applying to.
Start with your grades and test results. They do play a vital part in the appraisal process, but they don't occupy the same primary role they do in, for instance, medical school or law school applications. Because graduate programs are challenging, admissions committees look for proof that applicants have the academic background required to succeed. This often implies that applicants must have an excellent undergraduate GPA with an emphasis on courses pertinent to their desired graduate program. Indeed, most graduate programs will either ask you to provide the GPA for just your major or use other metrics to create their own internal GPA that weights higher level courses, classes you took after your freshman year, and classes that are relevant to the grad program. Also, though it's becoming increasingly rare, a lot of programs demand that applicants take standardized exams like the GRE. In theory, these exams give admissions committees a tool to compare candidates' intellectual potential and prowess… but in reality they're mostly used to weed out applicants in the initial phases of evaluation. As such, the fact that you have a strong GPA or test result does not ensure admission.
Another important element in the review process is recommendations. The potential of a candidate for graduate study and research is something that admissions committees are interested in hearing about. This often implies that candidates must provide letters of recommendation from academics or other experts who are familiar with them and can vouch for their qualifications. A candidate's talents and prospective contributions to the area are highlighted in strong letters of reference, which may also offer insightful information about the applicant's character and work ethic.
The evaluation procedure also considers personal statements. The chance to demonstrate one's personality, interests, and ambitions, as well as to argue why one is a suitable match for the program, is provided by the application. Statements that are well-written, considerate, and show a good grasp of the school and area are what admissions committees look for. Good personal statements demonstrate that the candidate is devoted to continuing graduate education in their profession and that they have a strong sense of purpose.
Last but not least, "show me" materials are also quite important in the evaluation procedure. This comprises essays, publications, writing samples, articles, presentations, lab work, and other work related to the graduate program. These resources offer verifiable proof of a candidate's potential and exhibit their capacity to advance the field. For instance, a quality writing sample might highlight an applicant's analytical and critical thinking talents, while lab experience can highlight their research capabilities. For students who might not have a great academic history or test scores but who have other experiences that illustrate their ability for graduate study, "show me" materials are especially crucial.
For more help with your personal statement, check us out at Gurufi.com. Our personal statement editors and consultants have decades of experience helping clients get into top Masters and Ph.D. programs in STEM, humanities, fine arts, and social sciences. Our specialty is helping you craft compelling personal statements that move the needle in your admissions process! For questions, shoot us an email at service@gurufi.com. Check us out on Facebook, Twitter, and LinkedIn
#GradSchoolAdmissions #HolisticApproach #STEMMasters #STEMPhD #HumanitiesMasters #HumanitiesPhD #SocialScienceMasters #SocialSciencePhD #StrongAcademicRecord #RecommendationLetters #PersonalStatements #ShowMeMaterials #GRE #GMAT #ResearchExperience #CriticalThinking #AnalyticalSkills #AcademicPreparation #GraduateStudy #FieldOfStudy #PotentialForSuccess #ContributionToTheField #AdmissionsProcess #HigherEducation #GradSchoolTips #GradSchoolSuccess