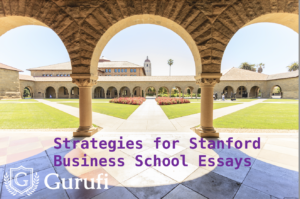 Gurufi.com helps clients brainstorm, build, write, and revise their personal statements. With 17 years of industry experience, Gurufi's Ivy League-educated consultants and editors have helped thousands of applicants earn admission to their dream schools.
         Last year, seven of our nine clients who applied to Stanford GSB earned admission (not bad for a school with a 6% acceptance rate!), so I was happy to see that they kept the same personal statement that they've used the past several years. But beyond the selfish reason of not having to learn and build strategies for a new essay, I was also happy because I think that this is one of the best personal statement prompts at any school. It does a fantastic job of allowing applicants to express their strengths, shine a light on their values, and demonstrate how they fit into arguably the best business school in the world. (Hey Wharton and HBS… before you get mad, I said, "arguably!" you and about a dozen other schools also are in this discussion)
         But what does that mean for YOU? In other words, what are some strategies YOU can use to conquer these two essays? I'll give you three tips for each of the respective essays, but before I do, I want to give three big-picture hints that apply to these two essays as a package.
First, it's important to view these essays as complementary. When planning them out, almost think of them as one essay broken in two. Obviously, each needs to have its own structure, theme, and ideas, but while you should want the essays to feel connected -in terms of tone and theme- you don't want to content or ideas to be too repetitive. If you go over something at length in Essay 1, don't feel the need to do anything more than mention or nod at it in Essay 2.
Second, keep the core strengths of Stanford GSB in mind. This is a school that loves entrepreneurs; they're not looking to train the next generation of middle managers. So, don't be afraid to talk about the big ideas you want to conquer so long as you can ground those big ideas in substantive accomplishments and personal knowledge.
Lastly, perhaps more than any other school, Stanford's prompt really is begging you to open up your soul. So think in terms of stories and experiences, and how they inform, created, or explain your values and also why these sensibilities make you a good fit for Stanford.
Okay, now to explain how we at Gurufi like to think about these two essays. First, Essay One: "What matters most to you and why?"
The mindset I'd like you to keep throughout this process is that this essay isn't an application, it's a journey of self-discovery and deep reflection. Now look… obviously it IS an application, but allow yourself to shift your mindset so that you're thinking in ways that produce meaning and deeply personal stories.
Delve Deep Into Self-Reflection
At its heart, this prompt asks for a narrative that transcends professional achievements and the kinds of rote clichés that litter MBA applications. It's an invitation to introspection, a call to articulate the values and experiences that define your essence. The foundational tip here is to engage in profound self-examination. Reflect on the moments that have sculpted your character, the lessons that have crystallized your values, and the reasons why these elements have risen above all else in importance.
How can you do this? Ask friends, "what do you think seems most important to me?" Ask yourself, "what moments have been the most important to me? Why did they have such importance?" Then, sit and engage in a process of brainstorming where you just write out your ideas about this topic. You want to make sure that the value you define is clear, direct, and relates to everything else you're going to build in this essay.
(also, a small point: many people feel the need to open their essay with "Nothing matters more to me than…" This is very middle school. Don't do that. You can trust that the reader won't stop reading if you don't say it right away. In fact, two of my applicants (who were admitted last year) began their essays with framing / introductory stories and then had their "nothing matters more to me than…" at the start of Paragraph Two)
Craft a Cohesive and Engaging Narrative
In other words: think in terms of stories that show you putting your most cherished value in action. Your essay must not only present your values but also weave them into a narrative that resonates with authenticity and engagement. Tell a story replete with emotion, humor, or inspiration, one that imbues your personal growth with relatable and vivid anecdotes. Remember that admissions officers seek to uncover the 'why?' behind your values through this conversation on paper. The effectiveness of your essay hinges on how well you translate your values into compelling life stories.
Link Your Values to Your Vision
Finally, Stanford is not just looking at who you are, but who you aspire to be. Your values should not exist in a vacuum; they should propel you forward. Stanford's mission—to change lives, organizations, and the world—should echo in your narrative. Illustrate how your values have shaped your vision and how they drive your purpose and future ambitions.
Essay B: Why Stanford?
Identify Unique Aspects of Stanford GSB… But don't turn it into a Stanford brochure
When addressing 'Why Stanford?', specificity is key. It's not enough to laud the school's prestigious reputation or vibrant location. A good question to ask when thinking about whether to mention something is, "do all top schools have this?" For instance, if you add, "the school's use of the case method and its strong alumni connections…" could be said of any top business school. So either go deep and get more specific, or leave that out. Instead, pinpoint particular resources, opportunities, and facets of the GSB experience that align precisely with your aspirations. Show how Stanford's distinctive offerings intertwine with your goals and how they are instrumental in your envisioned future.
But, also make sure that you don't turn this essay into just a list of stuff you found on Stanford's website. The easiest way to avoid this is to select just a few specific things (say, no more than 4-5) and explain their meaning and utility to you, giving specific attention to how your past would prepare you to maximally leverage these opportunities and why doing so would position you to attain your long-term goals.
Exhibit Intellectual Curiosity and Problem-Solving Orientation
Stanford prizes intellectual rigor and a problem-solving mindset. To convey this, focus on the challenges you wish to tackle post-MBA and how Stanford's curriculum, culture, and community are conducive to equipping you for these endeavors. Demonstrate a clear understanding of how the school's academic ethos and practical opportunities serve as a catalyst for your problem-solving capabilities.
Contribute to the Stanford Community
Admissions officers also want to discern what you'll contribute to Stanford. Reflect on your unique experiences, skills, and perspectives. How will you enrich the GSB community? Articulate your potential contributions and envisage your role within the school's tapestry, reinforcing why your presence at Stanford will be mutually beneficial.
I know that this is a lot to take in, but these are two deceptively complex prompts that require a nuanced, thoughtful, highly specific, and polished essay. These two essays, taken together, should narrate the stories of your life that reveal your deepest values and aspirations and delineate a future intertwined with Stanford GSB's transformative education. With these tips, take the challenge head-on: reflect deeply, narrate compellingly, link values to vision, specify your reasons for choosing Stanford, demonstrate intellectual vitality, and project your contributions to the GSB community. By doing so, you'll not only answer Stanford's questions but also engage in an exercise of profound self-awareness. Remember, at the heart of these essays is you—your truth, your story, and your vision for a future that Stanford can help you realize.
For more help with your personal statement, check us out at Gurufi.com. Our personal statement editors and consultants have decades of experience helping clients get into top Masters and Ph.D. programs in STEM, humanities, fine arts, and social sciences. Our specialty is helping you craft compelling personal statements that move the needle in your admissions process! For questions, shoot us an email at service@gurufi.com. Check us out on Facebook, Twitter, and LinkedIn.