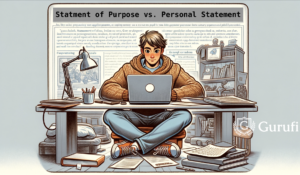 Most graduate programs require only a personal statement, but many (particularly, some of the BigTen schools) require both a personal statement AND a statement of purpose. Many applicants can find the distinction confusing, so we're here to clear that up.
For the last 17 years, the consultants and editors at Gurufi have helped applicants earn admission into a variety of STEM, humanities, social sciences, and arts Master's and Ph.D. programs. We are quite familiar with these kinds of finder distinctions and can help you build either (or both) a compelling personal statement or a strong statement of purpose. Although these two essays may seem similar at first glance, they serve distinct functions and require different approaches.
Statement of Purpose
Purpose and Focus
The Statement of Purpose is primarily focused on an applicant's academic and professional aspirations. It is a forward-looking document that outlines the applicant's research background, career goals, and how a specific graduate program aligns with these goals. A strong SOP should explain why the applicant is interested in a particular field of study and how they plan to use their graduate education to advance in that field.
Content
At the heart of an SOP is the applicant's research, writing, or other relevant experience and a clear explanation of how this has laid the groundwork for further studies in a particular field. This includes any relevant projects, papers, presentations, or studies the applicant has undertaken. The SOP should provide evidence of the applicant's ability to undertake graduate-level research and their potential to contribute to the academic community. It should also articulate the applicant's understanding of the field and how they envision contributing to it.
When working with clients, I will sometimes say, "okay, imagine that it's 6 years from now, you've earned admission and are writing your thesis or dissertation. In 75 words or less, what is your thesis?" The reason is that it helps if you have a highly specific, clear, and well-tailored (more on this in a second) sense of what you aspire to study. The closer you can get to describing your intended field of study, the better.
Note that some people disagree with this strategy and they worry that this kind of specificity will make them seem either dogmatic or uncurious or limit their opportunities for admission. For reasons I lay out in this video, and will write about tomorrow, these concerns are unfounded. But, the long-story-short version is that there are ways to demonstrate breadth of thinking and curiosity while still using a specific and well-developed vision of your intellectual mission to indicate that you'd arrive to graduate school well-versed and prepared enough in the field to do high-level work.
Tailoring to Specific Programs
A key feature of the SOP is its specificity to each application or school. Applicants must customize their SOP to reflect how their goals and interests align with the particular program's strengths, faculty expertise, and resources. This customization demonstrates the applicant's knowledge of and fit for the program. Again, this is a topic that I'll cover in greater depth later this week, but for now I'll just note that if you're applying to multiple schools that require SOPs, you can repurpose MOST of it for multiple schools and you don't have to write a completely original document for each application.
Personal Statement
Purpose and Focus
In contrast, the Personal Statement is more narrative, personal, reflective, and introspective. It focuses on the applicant's background and life experiences, including cultural, geographical, financial, and educational aspects, and how these experiences have shaped their decision to pursue a graduate degree. The Personal Statement is a narrative that provides a more holistic view of the applicant as an individual. If the Statement of Purpose feels more like a hybrid between your CV and a research proposal, then a Personal Statement is more like a story of your intellectual journey.
Content
A PS often includes personal stories or anecdotes that reflect the applicant's resilience, determination, and motivation. It might describe significant challenges or obstacles the applicant has overcome, such as financial hardships, cultural barriers, or personal adversities. The aim is to provide insight into the applicant's character, values, and the unique perspective they will bring to the graduate program.
Importantly, these stories should explain or contextualize the reasons for your intellectual interests. The old joke is that "all research is 'ME search'" so explain why this path resonates with you.
Overcoming Challenges
A significant aspect of the Personal Statement is highlighting how the applicant has navigated and overcome major challenges to achieve their goals. This narrative not only demonstrates resilience but also shows the applicant's ability to thrive in challenging environments, an important quality in graduate studies.
Combination Statements
An important note: most graduate programs require only a personal statement. In that case, most of this advice doesn't apply. Instead, if you're sending only a single document, it needs to be a mashup of the two essay types described above. In other words, the applicant needs to weave together their personal narrative with their academic and professional aspirations. This hybrid statement should reflect both the applicant's personal journey and their specific vision for their future in the context of the graduate program.
For more help with your personal statement, check us out at Gurufi.com. Our personal statement editors and consultants have decades of experience helping clients get into top Masters and Ph.D. programs in STEM, humanities, fine arts, and social sciences. Our specialty is helping you craft compelling personal statements that move the needle in your admissions process! For questions, shoot us an email at service@gurufi.com. Check us out on Facebook, Twitter, and LinkedIn.