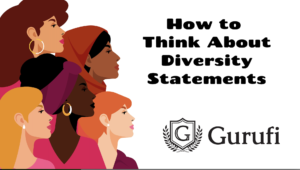 Diversity statements are among the most stressful and uncertain parts of your application package, so we're going to spend a few posts talking about them. In a recent YouTube post, I talked some about my thoughts on the topic.
Start by understanding the purpose of a diversity statement. It is a chance for you to showcase your distinct experiences, identities, and opinions, as well as how they have influenced your academic and personal development. This might assist admissions committees in understanding the value you will contribute to their graduate program and the larger academic community.
In your writing, be sincere and genuine. Admissions committees will be able to discern if you are simply attempting to check a box for diversity or if you are actually committed to diversity and inclusion. Include clear instances of how your experiences and identities have influenced your life and ambitions.
Consider your personal prejudices and how they may have shaped your viewpoint. A diversity statement allows you to demonstrate that you are self-aware and open to learning from those with diverse backgrounds and experiences.
Keep it brief and to the point. A diversity statement should be 500 words or fewer, so concentrate on the most relevant and significant experiences and identities.
Give this essay the same care and attention that you would with all other written parts of your application, like your CV and Personal Statement. Edit and proofread your statement thoroughly. It is critical that you show yourself in the best possible light, so double-check for spelling and punctuation mistakes and have someone else evaluate your statement for input.
For more help with your personal statement, check us out at Gurufi.com. Our personal statement editors and consultants have decades of experience helping clients get into top Masters and Ph.D. programs in STEM, humanities, fine arts, and social sciences. Our specialty is helping you craft compelling personal statements that move the needle in your admissions process! For questions, shoot us an email at service@gurufi.com. Check us out on Facebook, Twitter, and LinkedIn.