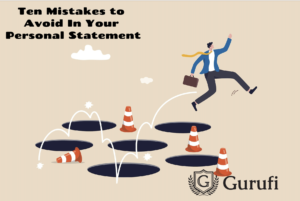 Personal Statements are an unusual form of writing. We're so rarely called on to write about ourselves, much less boast about our accomplishments. This is doubly difficult for people without a lot of essay-writing experience. As such, it's natural that people make some pretty basic -and deadly-mistakes. In my decade of helping people with their personal statements, I've come to recognize some common errors that people make. Here are my top ten.
1. Not proofreading: It is critical to check your personal statement for grammatical, spelling, and punctuation issues. An error-ridden personal statement reflects negatively on your attention to detail and ability to speak effectively.
2. Being too generic or vague: Your personal statement should be detailed and highlight your unique experiences and accomplishments. Avoid utilizing broad or ambiguous terminology that adds no value to your application. A good way to bring specificity to your essay is to make sure your essay is built around stories.
3. Lack of focus: A personal statement should be focused and directed. Include irrelevant material and avoid going off on tangents. You have to be tough-minded when it comes to editing out stuff that doesn't advance your core positioning as a candidate. All the time, I see candidates who just really want to tell about some award, experience, or accomplishment, so they'll shoehorn it into their personal statement, disrupting the flow and undermining the essay's theme. Don't do this. Either find another part of your application where you can highlight this tangential material or leave it out.
4. Being overly wordy or long: Personal statements should be brief and to the point. Include no extraneous material or go into excessive detail about a single incident.
5. Failure to adjust the personal statement to the program: Make certain that your personal statement is tailored to the specific MBA program to which you are applying. This involves addressing how your history and experiences match with the program's aims and objectives, as well as mentioning the program's goals and objectives.
6. Failing to establish your program fit: In addition to adapting your personal statement to the specific program, it is critical to illustrate how you are a good match for the program. This involves talking about your professional aspirations and how the MBA program will help you get there.
7. Being overly self-promotional: While it is vital to showcase your achievements and experiences, avoid becoming overly self-promotional. Consider how your previous experiences prepared you for the MBA program and your future job ambitions. The difference between advocating for yourself (which is good) and bragging (which is bad) is subtle, but there's an easy test you can use to distinguish. If you use a positive descriptor about yourself (I'm smart, I have good work ethic, I believe in inclusivity, etc.) without providing an example, you're probably veering more toward boasting than advocating. Again, this is why it's so important to build around stories.
8. Being dishonest: Be truthful in your personal statement. Puffery and dishonesty are easier to detect than many applicants think, so resist the temptation to juice your application with tall tales.
9. Failing to portray your individuality: Your personal statement is an opportunity to demonstrate your personality and distinctive qualities. Do not exaggerate or inflate your experiences or accomplishments. Allow your individuality to show through instead of being overly official or rigid in your writing.
10. Failing to seek input: Before submitting your personal statement, obtain feedback from others, such as a career counselor, mentor, or trustworthy friend or family member. This will assist you in identifying any areas for growth and ensuring that your personal statement is as good as possible. If you're looking for professional assistance, be sure to check us out here at Gurufi.com!
For more help with your personal statement, check us out at Gurufi.com. Our personal statement editors and consultants have decades of experience helping clients get into top MBA programs. Our specialty is helping you craft compelling personal statements that move the needle in your admissions process! For questions, shoot us an email at service@gurufi.com. Check us out on Facebook, Twitter, and LinkedIn.